Reports tell a story
22 Nov, 2019
An engaging annual report design needs planning, preparation and stunning visuals for appeal. The communication within the report needs to be clear.
Company business metrics, and revenue growth projections need to be presented in a structured manner. Each section must flow one after another.
Only an award-winning annual report design agency can turn a typewritten, bland, text-and-number-filled report into an inspirational communication design.
An annual report needs to tell a story. It needs to flow from one section to another. In this article, we will look at the steps involved in writing a report, along with the various types & contents of an annual report. So, let's dive right in...
What is a report?
A report is a piece of handwritten or typewritten documents. It contains in-depth information about a particular subject. A report is compiled after sufficient research. This document is then published – either in print or digitally.
A report is presented with analytical information and needs to be written as per an organized structure. It needs to be simple enough for a layman to understand its contents.
What are some tips in report writing?
The steps in writing an effective report are:
Find a purpose for your report
Target your audience well
Report research is paramount
Structure and organize your report
What are the contents of a report?
The general contents of a standard report are:
Title of the report
Author's summary
Table of Contents
Introduction to the report
Body of the report
Conclusion
Recommendations
Appendix
Bibliography
References
Which are the types of reports?
Although a report can be prepared for any topic, the most common types are:
Analyst presentation
Progress report
Expense report
What is an annual report?
An annual report is a primarily a financial document. Private or public companies summarize their transactions, targets, hits, and misses into a single document. Accompanying the financial information is a letter from the company CEO or Chairman.
It also includes the cash flow statement, discussion on company affairs, income statement and the balance sheet.
What are the contents of an annual report?
An annual report is generally made up of 4 sections that cover the major appendages of a corporate/company. The different annual report sections are:
Message from management
An annual report provides an opportunity for senior management to communicate with company stakeholders. Almost all annual reports start with a message/letter from either the CEO/Chairman of the Board of Directors. The message is a summary of how the company has grown during the past year.
Management analysis
After the management message, a detailed analysis of financial operations follows. The analysis includes information about:
Revenue growth
Net income
Asset sales
Operating expenses
Any changes from previous reports
Cash flow statement
Financial information
As the heading mentions, this section covers financial information, such as:
Previous years' finance figures
Current stock prices
Balance sheet information
Income statement data
Cash flow statement figures
Comparison as per financial trends (current to previous years)
Information regarding donations
Grants distributed
The income statement gives an overview of company earnings. Total sales & individual expenses are also documented within an income statement.
The balance sheet gives a snapshot of the company's liabilities and assets. The cash flow statement covers information about cash inflow/outflow.
Shareholder goodwill
All financial items are presented in a structured report format, to appease company shareholders. Sometimes the bulk of the annual report is dedicated towards public goodwill.
This section includes statements related to company ideals, company mission, and a message of encouragement. Top performing employees are felicitated. Team photographs, employee testimonials, and community service activities are highlighted.
What is annual report design?
Annual report design is the creative process of designing a visually-enriching report. Every company or corporate must hire an award-winning annual report design agency to get a report that stands apart.
Finding a top report design agency isn't difficult. Simply type 'annual report design agency' on Google to get this…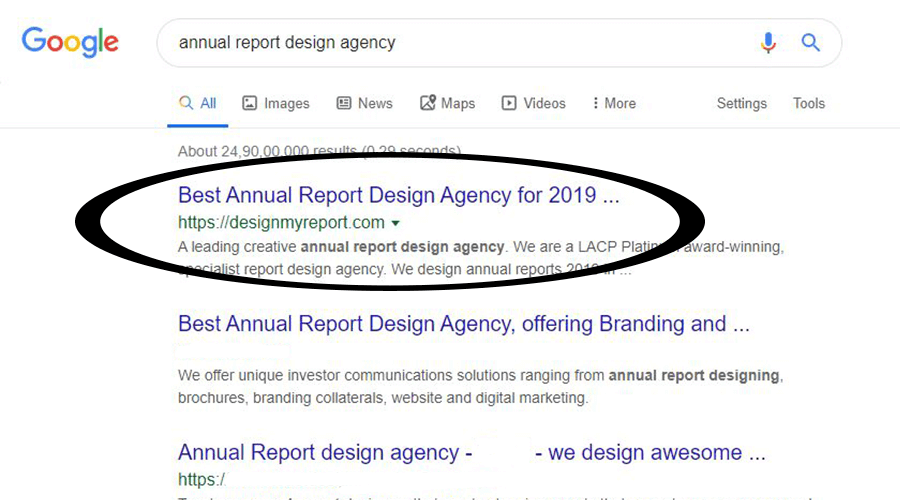 The no.1 ranked annual report designer as per Google SERP is designmyreport.com.
It takes years of creative design experience for a design agency to become the best. Corporate information is highly confidential. One must look at the agency's standing within the creative design or business communication design space.